A few days ago, a Twitter user @XrpCenter posted clipped video from the OECD conference that took place recently. One of the speakers there was Breanne Madigan, VP for global institution markets at Ripple.
When giving an example of how xRapid works, she mentioned Coinbase wiring funds to Mexico using XRP, thus letting MoneyGram benefit from the xRapid technology.
@XrpCenter provoked a heated discussion whether Coinbase has secretly partnered with Ripple and summoned xRapid experts to clarify the issue.
xRapid scouts — I summon you.

Breanne Madigan drops some crumbs at minute 9:37; it seems like Coinbase is an xRapid exchange and it's currently originating MoneyGram flows into Mexico. Should be interesting to track.@tenitoshi@hmatejx@hallwaymonitor2https://t.co/CFV5uFe1pE

— XRP Research Center (@XrpCenter) September 15, 2019
Brief history of the Coinbase-XRP relations
In late February this year, Coinbase Pro finally added three XRP pairs, making the coin's price surge back then on the news. Some were spreading rumors that Ripple had paid Coinbase a substantial amount to get that listing done but Ripple officially denied that.
Later on, XRP was allowed to trade on Coinbase Pro for NY residents.
In summer this year reports came on Twitter that Coinbase had changed banks and began working with the same bank that had been already using XRP for instant payment – Cross River Bank. The same argument was made in the discussion the other day.
This has been overlooked - Coinbase changed banks - NOW CROSS RIVER BANK
CROSS RIVER BANK is the 1st US based bank to use Ripple Net 4 real-time international payments between the U.S. & Western Europe. @digitalassetbuy @BakkupBradley @Danrocky https://t.co/RzruFAffb1

— XRP Researcher | XRP Investor (@XRPNews_) August 1, 2019
Are Coinbase and Ripple partners?
Ripple's Breanne Madigan mentioned that Coinbase wires XRP to Mexico for Ripple-backed MoneyGram as an example, she said. However, the author of the post, @XrpCenter, suspected that she could have accidentally spilt the beans.
He urged xRapid experts to join the discussion. A Twitter user @tenitoshi responded that this is unlikely true. Madigan mentioned the Mexican Bitso exchange as the receiver of the XRP flow in case of transactions to Mexico and Bitso at the moment, as per @tenitoshi, around 70-90 percent of xRapid payments on Bitso comes from Bitstamp, not Coinbase.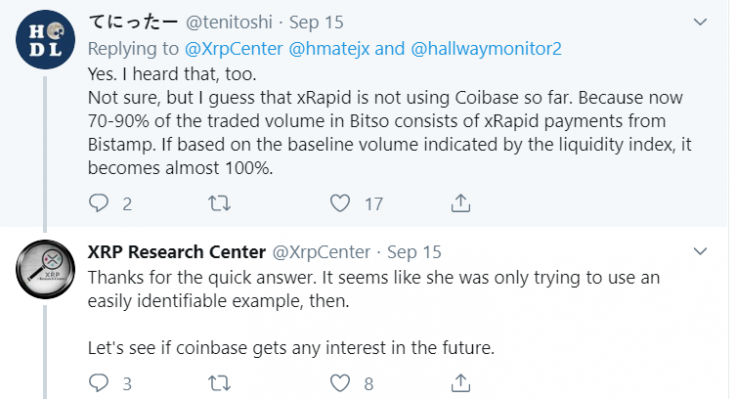 However, a curious thing is that Coinbase does have a payment system that offers transactions in XRP and its own stablecoin USDC free of charge.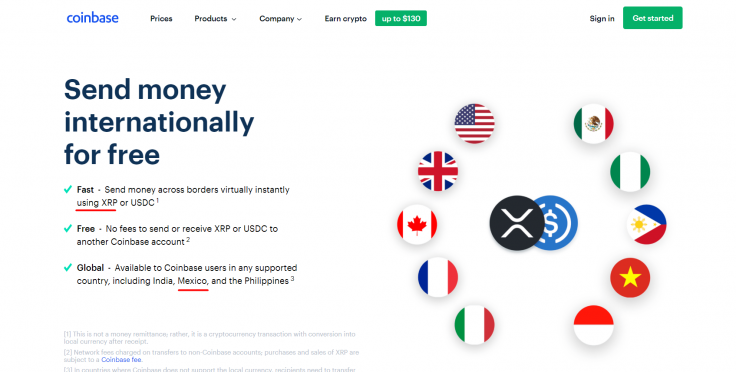 Despite the controversy, many users in the comment thread hope that Coinbase and Ripple prove to be partners indeed, since that would mean a bigger real use-case for XRP and ultimately a bigger adoption.