The founder of the Tron project, Justin Sun, seems to have ruined his reputation of an innovative project creator and lost the community's trust. Nearly each recent tweet by Sun meets a wave of criticism where crypto enthusiasts are calling Tron, Sun and even Binance crypto scams.
Many are referring to TRX nothing but a 'shitcoin'.
#BTT is available on @FinanceX_Fiat, you can trade BTT/VND, BTT/IDR, BTT/USDT now. #BitTorrent $BTT pic.twitter.com/YJDDzFLYTT

— Justin Sun (@justinsuntron) August 23, 2019
Don't miss the chance to get BTT (BitTorrent) on Aurora flash sale this August 26th,16:00 (UCT+8), and also officially listing on IDAX at 16:00, August 28th. Set your alarm and go get #BTT !! @Tronfoundation @justinsuntron @BitTorrent https://t.co/SyQEfMpIqB

— IDAX (@IDAXpro) August 22, 2019
One of the recent messages posted by Sun was about BTT getting listed by the FinanceX fiat-crypto exchange but the public does not seem to care about it.
Instead of positive and excited comments, they remind Sun about the failed but heavily hyped lunch with Warren Buffett and Sun's promise to return TRX and BTT to their previous winning positions on CoinMarketCap – TRX – to the top ten list, BTT – to the top thirty one.
When HUGE news
When BUFFET
When top 10&30

— subsidieland (@subsidieland) August 23, 2019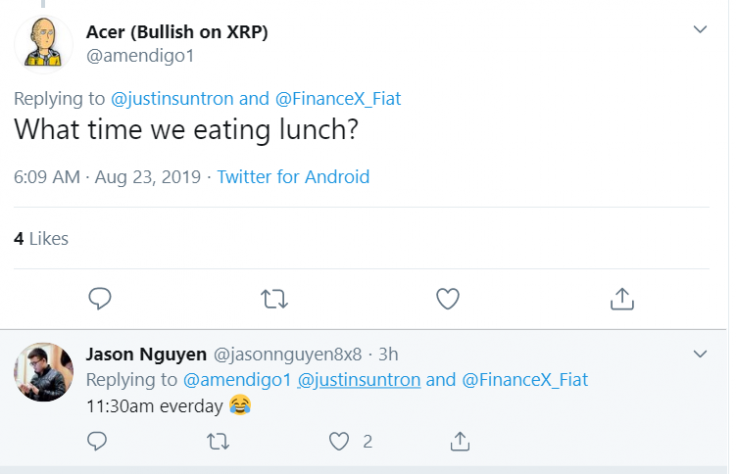 Justin Sun is back under fire
Even though recently Sun tweeted that he is 'back on fire' and is prepared to make Tron a hot project again, it seems that the man is 'under fire' instead.
JUSTIN THE SUN is back on fire! First target: $TRX back to TOP 10 & $BTT back to TOP 30. Wait and see. #TRON #BitTorrent 🚀😍😜

— Justin Sun (@justinsuntron) August 15, 2019
The community has lost trust in both Sun and Tron and people are making it clear in the comment thread under each new Sun's tweet.
Hurry up and go to dinner with Buffett. Liar Sun.

— GRAYMAPTURTLEMARO (@graymapmaro) August 22, 2019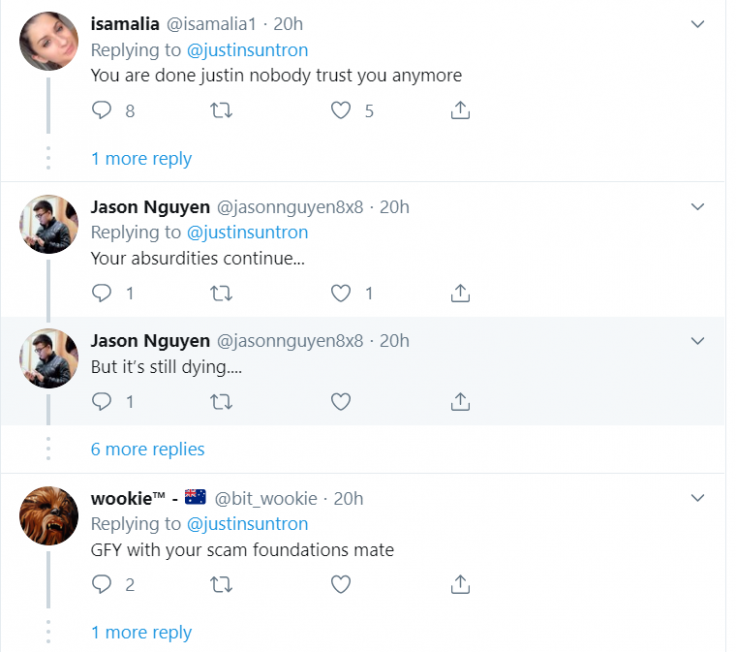 The recently announced priority was to get TRX listed on Binance US and/or Coinbase, according to Sun, however, his followers are offering nothing but disbelief and critics in response.
Justi sun is the younger brother of cz, but cz can't help $TRON list on binance US. Lol. Because $tron of justinSun is shitcoin. Haaa... Dont list on binance us. Don't dream about coinbase

— Jason Nguyen (@jasonnguyen8x8) August 23, 2019