It was recently reported that the US presidential candidate Andrew Yang, who promised to introduce UBI (universal basic income) in the amount of $1,000 per month to every US citizen, intends to give away $1,000 to ten people per month in 2020.
Tron CEO Justin Sun has chosen this initiative to tell more people about Tron and promises to give away $1,000 to 100 people next year on a monthly basis. In addition, he will pick one person to attend the much-hyped Warren Buffett lunch with him.
Yang's initiative to UBI $1k to 10 ppl per mth for 1 yr, I'll pledge UBI $1k to 100 ppl per mth in 2020! I'll pick 1 to attend lunch w/ me & @WarrenBuffett 2020! I'll let Yang assist me in picking the lucky 100! Join us! #YANG2020 @AndrewYang https://t.co/YQFnXwXtuf

— Justin Sun (@justinsuntron) September 13, 2019
Justin Sun plans beat Andrew Yang's UBI offer
As reported by The New York Times, the official presidential candidate, the entrepreneur Andrew Yang, has promised to experiment with UBI in 2020 and provide ten US citizens with $1,000 monthly during one year.
Later on, if he wins the election, Yang promises to introduce UBI in the amount of $1,000 per month to each American.
While the topic is hot, Justin Sun who is known for curious PR moves for Tron has tweeted that he would pay $1,000 to a hundred people next year, also each month.
He has also asked Yang to help him choose one person for his long-expected lunch with the world's legendary investor Warren Buffett. The lunch is currently being rescheduled as was confirmed by a Tron rep to U.Today previously.
However, The New York Times reports that the payouts promised by Yang would be made from his campaign donations. Now questions arise if such payouts would not be against the federal election law.
The biggest Sun's giveaway promise so far
Token giveaways are often conducted in the crypto industry for keeping the community loyal and Justin Sun has been practicing them for a long while, every now and then when there is an official reason.
The most recent one was the 10,000-TRX giveaway he initiated to celebrate a 1-year anniversary of launching the Tron Virtual Machine. Ten winners were picked to be given 1,000 TRX each. However, in fiat USD 1,000 Tronix is not that much at all.
With the current price of 1 TRX being $0.0153, 1,000 TRX totals $15.3.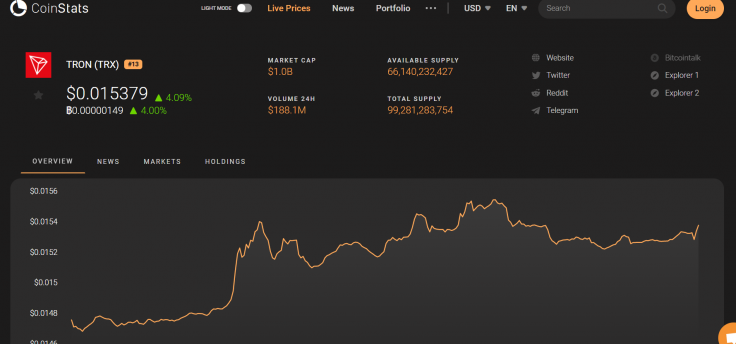 This time, however, Justin Sun promises to give away $100,000 per month, which $1,200,000 for one year.