Charlie Lee has been in the focus of media attention recently after clarifying that Litecoin still receives active developers' support and after conducting a Litecoin halving about a week ago.
Now, the LTC creator states that in key issues Litecoin works much faster than Bitcoin and can easily handle big hashrate problems, unlike, BTC, should they appear on the horizon.
'LTC blocks are 4 times faster than BTC's'
After the LTC halving conducted recently which Charlie Lee proudly declared to be a success, he now continues to talk about the positive sides of Litecoin's 'after-halving' life.
Once the halvening was done, Charlie Lee tweeted that the production of blocks was going faster than initially planned, since he expected many miners to switch off their machines and let the hashrate drop. That never happened, though.
Now, Lee tweets that LTC blocks are being produced 4 times faster than those of BTC and that the Litecoin chain can easily handle any major hashrate decrease.
Since Litecoin blocks are 4 times faster than Bitcoin's, the network can handle a sudden decrease in hashrate much better.

If 75% of hashrate disappears overnight, Litecoin just acts like Bitcoin for 2 wks (10 mins blks) and then diff retargets and everything is back to normal. https://t.co/N2vN6RbVeq

— Charlie Lee [LTC⚡] (@SatoshiLite) August 12, 2019
However, in the comment thread Lee admits that if anyone were to send the same amount of funds through LTC and BTC, they would have to wait for the LTC transaction to confirm much longer than on the Bitcoin network.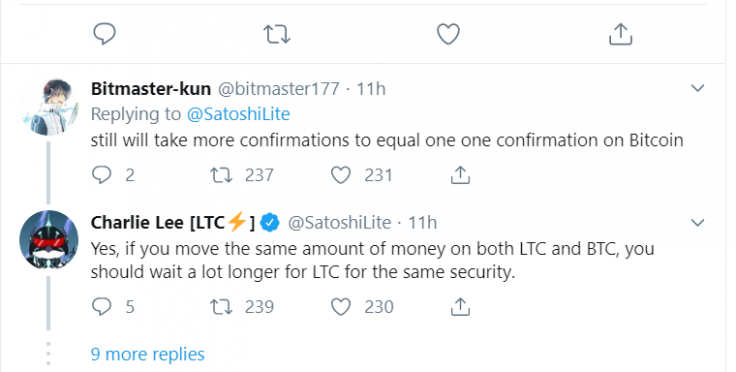 The Litecoin founder points out that he has discussed an extreme situation, when speaking of a 75-percent drop in hashrate. This time, he says, after the halvening, LTC lost only 15 percent of it.
You lose 3/4 of the security. I think both Litecoin's security is way more than it needs to be currently. Litecoin has about $300M+ amount of ASICs miners protecting the network.

But I'm just highlighting a extreme situation. We only saw a 15% decrease this time.

— Charlie Lee [LTC⚡] (@SatoshiLite) August 12, 2019
Charlie Lee denies rumors of LTC dumped by devs
Recently, a video was published on YouTube with a Twitter post to follow with both providing evidence that Litecoin has not been getting any support from developers in quite a while already.
In case anyone thinks the LTC chat was fake, check out the Litecoin Telegram channel where someone asked Charlie about my video and he says it's true. Then I get kicked out. pic.twitter.com/LPVbbYoRIm

— CryptosRUs (@CryptosR_Us) August 10, 2019
However, recently Charlie Lee denied that information, saying that Litecoin development is taking place as before and that the community has nothing to worry about.