John McAfee is probably the most controversial figure in the crypto industry and is a thought-leader for many. In today's series of tweets, he has commented on the approaching launch of physically delivered Bitcoin futures on the Bakkt platform.
He said the news is good but he will never use this platform or any that are similar to it.
BAKKT goes live tomorrow. It is an institutionalized exchange so I won't be using it, but institutions will feel a level of trust that they had not had. It could jump-start Ctypto adoption. But remember - it is the opposite of freedom's movement.

— John McAfee (@officialmcafee) September 20, 2019
'It Сould Jump-Start Crypto adoption'
As reported previously, Bakkt Warehouse launched on September 9 with open registration for Bitcoin futures. Trading was meant to start on September 23.
The former antivirus magnate John McAfee says that this is a good idea and could help accelerate crypto adoption. However, he would never use it since Bakkt is a centralized exchange. Institutionalized exchanges, he says, are opposite to the idea of freedom, he says.
McAfee calls institutions adopting crypto drug-selling syndicates
To prove his point about the potential danger from the event, the crypto millionaire compares institutional adoption to big syndicates that make money on selling drugs to average people. Use it, if necessary, he says, but do not fall into the pit.
No contradiction to support BAKKT while refusing to have anything to do with it. We need the current system to build the tools with which we will dismantle it.

— John McAfee (@officialmcafee) September 20, 2019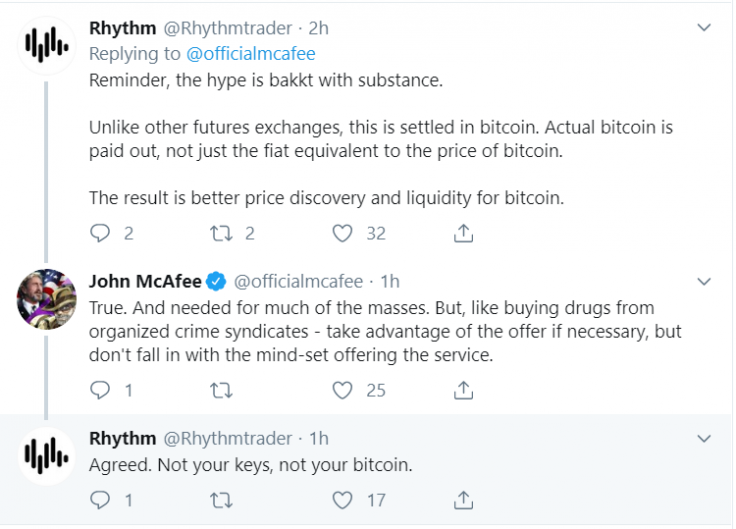 McAfee joins a centralized exchange as an advisor
Although John McAfee totally supports only decentralized trading platforms (dexes) where trade happens on a P2P basis, this time he has joined the R&D department of a regulated exchange Burency.
A recent example of LocalBitcoins that started as P2P exchange and now is quickly becoming a regulated one has brought up a storm of indignation from its users who now have to submit their person data to access its services.